The MVP Online Studio provides access to weekly livestream and on-demand yoga classes for as little as $9.99/month.
Available on web-browser and Apple & Google Play Store, practice with My Vinyasa Practice whenever and wherever you are!
Table of contents:
---
MVP Online Studio Subscription
Subscription plans are available for $9.99/month or $99/annually.
Drop-in classes are offered at $1.99/class.
How to Subscribe via a Web Browser
Follow this step-by-step guide to subscribe to the MVP Online Studio:
Navigate to the MVP Online Studio page (https://www.tvmyvinyasapractice.com).
Click on the "Start Your Membership Now" button or the "Join Now" button, as shown below:
To create your account:

Enter your email address.
Enter your full name.
Choose your password.
Agree to the Terms & Conditions.
Click Continue.


Enter your credit or debit card details, then click "Complete" to complete your purchase:
How to Make an In-App Purchase
Download the MVP Online Studio App, available on the Apple App Store or Google Play Store, which allows for premium access for as little as $9.99 monthly, including unlimited livestream and on-demand classes.
You will click "Choose Your Plan":

Choose your plan by clicking the circle next to "Monthly Subscription" or "Yearly Subscription," then click "Continue to Checkout:

You will be able to verify your selection; if you need to make changes, you can. When ready, click "Complete order":

Cancel my Subscription
Follow this step-by-step guide to cancel your MVP Online Studio subscription. You can reactivate your MVP Online Studio subscription at any time or purchase single classes if you would like.
Caveat

: Kindly note that a web browser has to be used to cancel your subscription.
Navigate to the MVP Online Studio page:

Click the account icon in the top right corner:

Select Dashboard:

Click Purchases:

Click Cancel Membership:

Click "Cancel my membership":

Your cancellation will now show as Pending Cancellation:
You will receive an email confirming your membership cancellation:

You have the option to Reactivate your subscription if you decide to continue your access.
Click "Reactivate":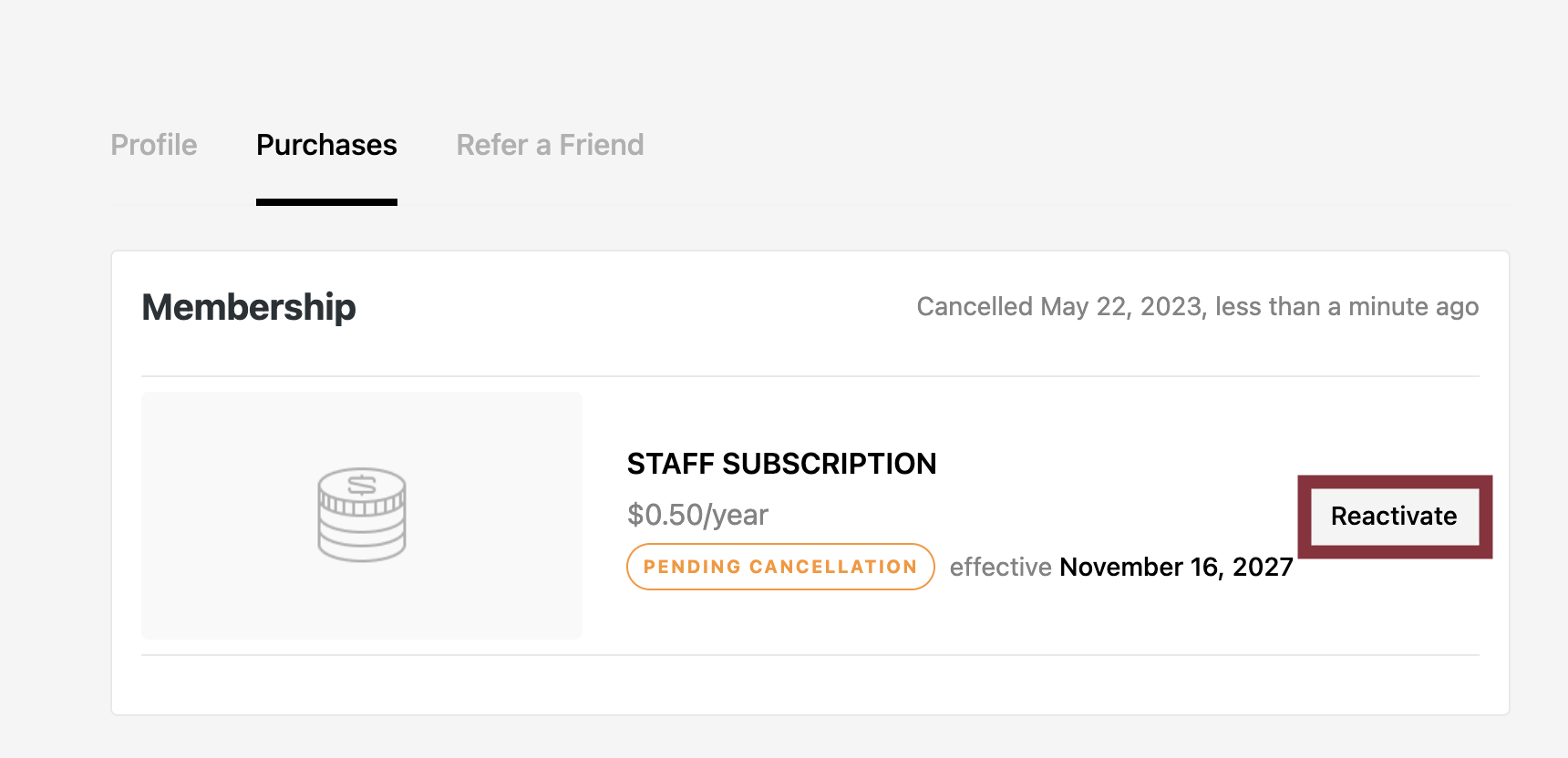 Choose the plan you wish to reactivate: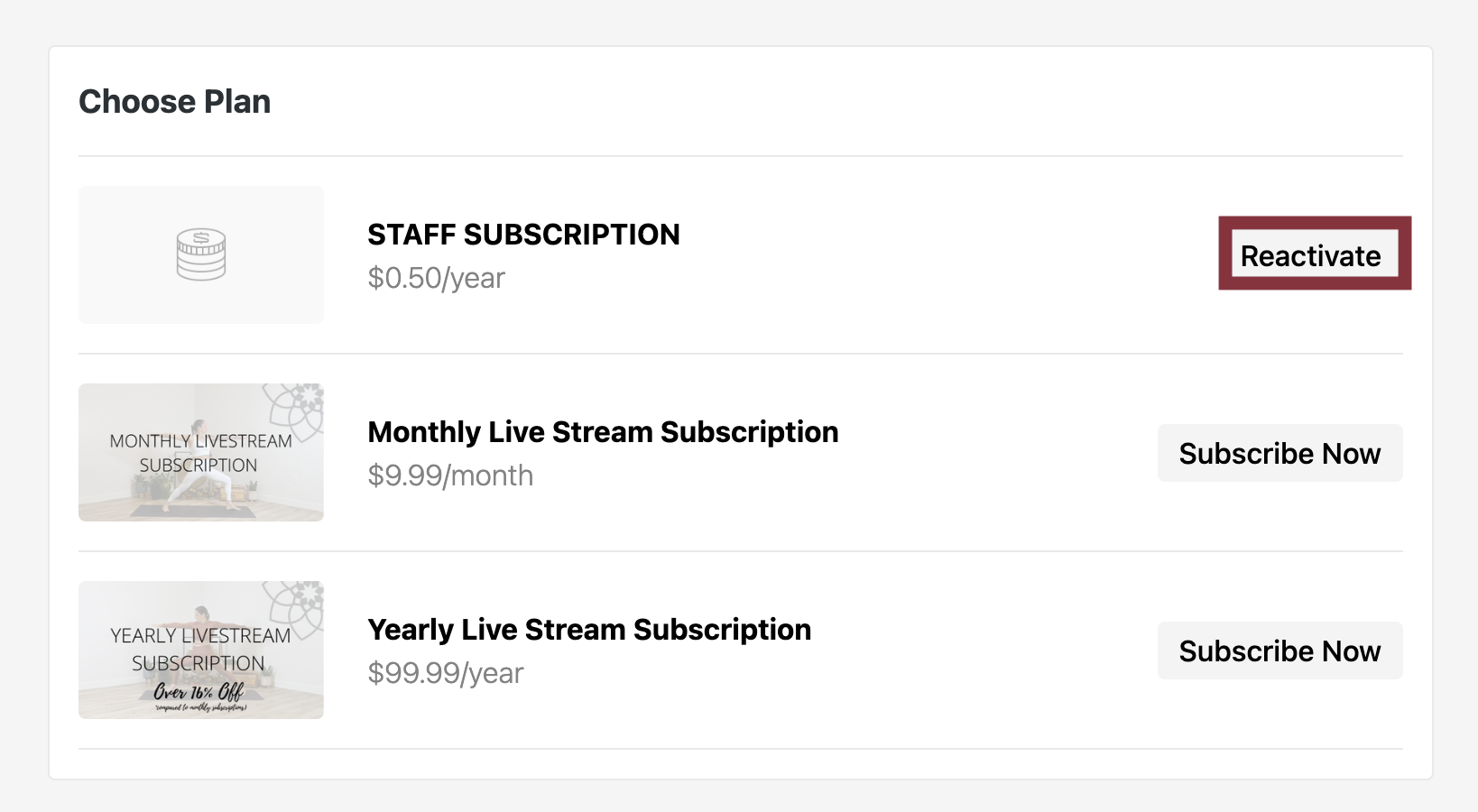 Click "Reactivate Membership":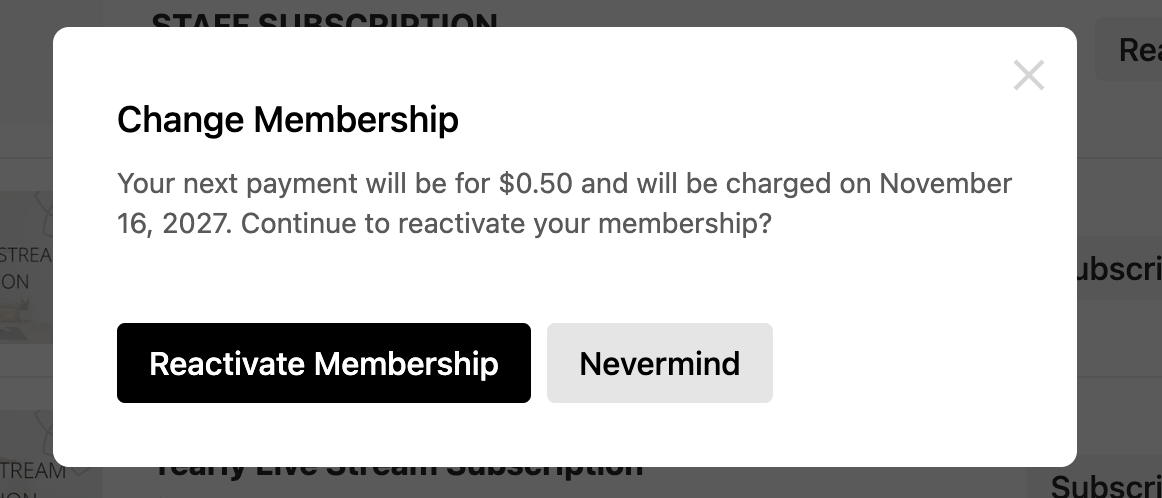 Cancel my In-app Subscription
After opening your app, navigate to your account:

Scroll down and select "Billing":

Click "Manage Subscriptions":

This will bring you to your app Subscription area. You will select "My Vinyasa Practice":

Click "Cancel Subscription":

Click "Confirm":

---
MVP School | Course Content in the Online Studio
Caveat

: Please note that the MVP Online Studio (previously known as the MVP App) is a different platform than and not connected to the MVP School. To access your purchased courses and trainings, please navigate to https://school.myvinyasapractice.com/.
MVP exclusively made the 200-hour Yoga Teacher Training Video Lectures available in the Online Studio.
To access these, kindly use the link provided in the introduction section of your course to create an account for the MVP Online Studio. Reviewing Video Lectures in the Online Studio does not advance your course progress, and you won't have access to accompanying text and materials.
You must still log in to your MVP School Account to mark the section as complete and move forward in training.
---
Users may contact MVP's Support for further assistance via the YogiBot widget in the bottom right corner.