Welcome to the My Vinyasa Practice Help Center!
We are thrilled to announce the launch of our new Help Center, designed to provide you with all the information you need to enhance your yoga journey. Our Help Center serves as a one-stop hub for addressing your queries regarding MVP's services and products, providing support for your training and courses, and offering supplementary tips to enhance your overall experience with My Vinyasa Practice.
To access the Help Center, simply visit our website, select the About drop-down menu, click Help Center, or access support.myvinyasapractice.com. You'll find a user-friendly interface with a search bar, categorized articles, and you can leave comments with insights or questions for each article.
We are excited to embark on this journey with you and support your growth in yoga and overall well-being. Let the MVP Help Center be your trusted companion as you deepen your practice, expand your knowledge, and embrace the transformative power of yoga.
Table of contents:
---
The MVP Help Center
Gradual Release
To ensure that you have access to a wide range of resources, we have initially released 25 primary articles covering a diverse array of topics. These articles are thoughtfully curated and written by our team of experienced yogis, teachers, and subject matter experts.
We are committed to the continuous expansion of our Help Center, striving to cover all aspects related to My Vinyasa Practice. In the forthcoming months, you can expect a steady influx of new content that delves into various facets of our offerings, providing comprehensive support and guidance.
Share Your Feedback with Us!
At My Vinyasa Practice, we value your feedback and suggestions. If you have any topics or questions you would like us to cover in future articles, please reach out to us through our support channels.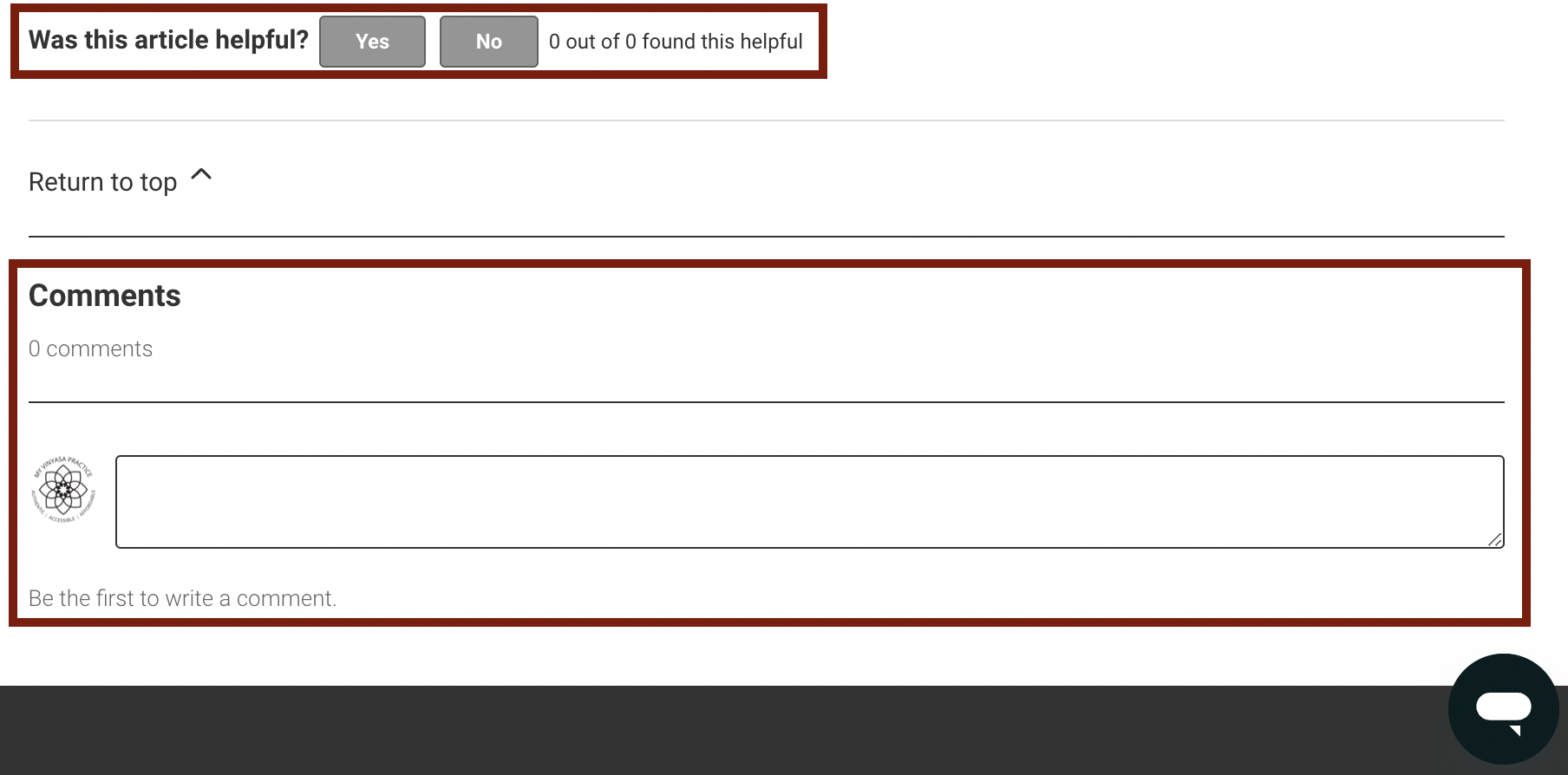 After reading each article, we encourage you to share your feedback on its helpfulness. In the comment section below, feel free to provide suggestions on additional information that would be beneficial to you. However, please note that all comments within the Help Center are public.
If you have any private inquiries related to your specific training and support experience, we kindly request you to submit them via the YogiBot (refer to the section The YogiBot for more information).
---
MVP Support Channels
The Support Team of My Vinyasa Practice is available to assist you seven days a week, ensuring that help is always within reach.
The YogiBot
YogiBot, MVP's ChatBot, is tailored to offer personalized guidance by directing you to pertinent Help Center articles and resources based on your specific inquiries or questions. Its primary objective is to assist you in locating the most relevant information within the MVP ecosystem, customized to your needs.
Should YogiBot be unable to resolve your query, our proficient Peer Support Agents will step in to provide tailored assistance, ensuring your needs are addressed effectively.
Click the web widget in the bottom right corner to access the YogiBot:



Click one of the suggested inquiry topics, or type your question into the Messaging field:

Our dedicated Peer Support Specialists are readily available to assist you during our business hours: Monday to Friday, from 9 AM to 5:30 PM CT, and on weekends from 9 AM to 1 PM CT. You can expect prompt support from one of our experienced specialists during these times.
For messages received outside of our designated business hours, we assure you that we will respond within 24-48 hours. We appreciate your patience and look forward to addressing your inquiries as soon as possible.
Social Media
Connect with MVP's Support Team conveniently through Facebook and Instagram direct messages. During business hours, our dedicated team is ready to assist you with any inquiries, providing prompt and personalized support for your convenience.
Voicemail & 1:1 Meetings
Feel free to leave us a voicemail at (512) 435-7589, and our team will promptly return your call within 24-48 hours.
Alternatively, if you have any questions before making a purchase or if you're an existing student seeking assistance, you can also book a 1:1 Meeting with our Peer Support team for personalized guidance.
Click here for a full breakdown of 1:1 Meetings with Peer Support.
Email
For general inquiries, customers may reach us at peersupport@myvinyasapractice.com.
However, for efficient and personalized support and assistance, we warmly invite customers to reach out to us via the YogiBot, ensuring a more tailored and efficient support experience.